One thing we know for sure is that plastic surgery continues to evolve and has changed dramatically over the last three decades. Dr. Steven K. White is one of the many plastic surgeons in the field that considers teaching and learning about his craft as important as the craft itself. He continues to learn new techniques and try new equipment to make procedures more efficient and results for his patients even better. Once he perfects these new techniques, he teaches them to others in the field to spread this knowledge with the goal of improving the field as a whole for patients up and down the eastern seaboard.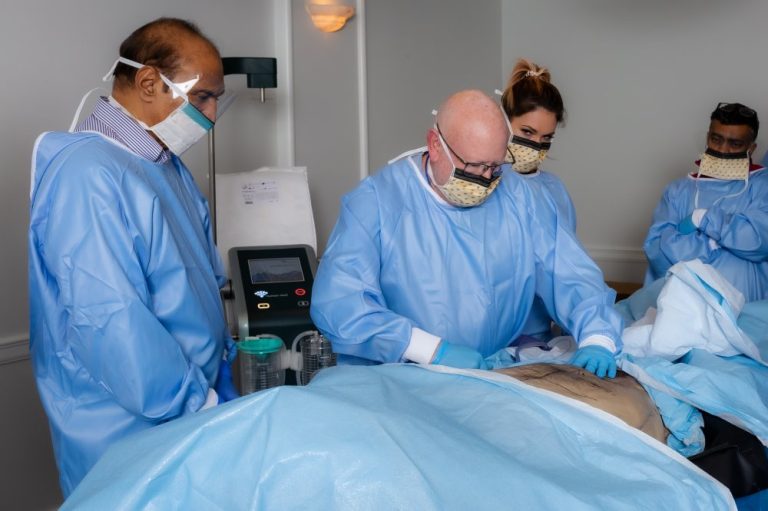 "Advances in Aesthetics" Workshop
Most recently, Dr. White was invited to lecture and conduct a live demonstration at a seminar in New York City. The event, "Advances in Aesthetics" was a one-day workshop at the Beacon Hotel in Manhattan and featured topics on pain management, PRP, Nanofat Harvesting, and Lipoharvesting. Dr. White's gave a lecture on his experiences and techniques regarding water-assisted liposuction and fat harvesting/transfer. After his seminar was completed, he also gave a live demonstration on a cadaver to show his participants his methods and techniques. This demonstration allowed him to show participants how he uses the machine in real-time and gave them the ability to ask questions.
At the seminar, our team also completed training on vein management and learned new techniques for the administration of nitrous. This one-day event was one of many teaching demonstrations and seminars that Dr. White was a part of in 2021. It was a great year for teaching and learning, 2022 will be even better!